Tutors
---
Martin Cousin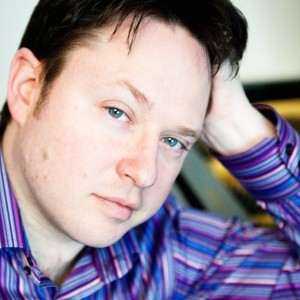 Martin CousinMartin Cousin is now regarded as one of the most exceptional pianists of his generation, having been awarded 1st prize at the 2005 Ettore Pozzoli International Piano Competition (Seregno, Italy) and Gold Medal at the 2003 Royal Over-Seas League Music Competition (London).
Martin has appeared regularly in the major British musical venues since graduating from the Royal College of Music, making his London solo debut at the Purcell Room in 1998. Numerous solo recitals followed, most notably at the Wigmore Hall in 2001, 2005, and 2011 and he has appeared as concerto soloist with the London Philharmonic, Halle, Royal Philharmonic, Philharmonia and BBC Concert Orchestras.
Performances further afield have included tours of New Zealand, Italy, the US and concerts in Stockholm, Brussels, Toronto, Berne and The Hague.
2006 saw the release of his debut CD, Rachmaninov's Sonata No.1 and Morceaux de Salon with SOMM Recordings, which was selected as Classical CD of the week by the Daily Telegraph.
The US magazine Fanfare added, "This is the performance of the 1st Sonata that I have always heard in my head but never thought I'd actually get to hear with my ears. This guy's the Real Deal!"
His second CD for SOMM, featuring Glazunov's piano sonatas, was released in 2010 to great acclaim, with Gramophone stating that the new release is 'in every way, an impressive disc.'
His latest disc of Rachmaninov's Etudes-Tableaux was released in 2014 and was proclaimed 'a landmark recording' by the Observer with a 5-star review. Classical Source added, 'This is one of the best solo piano records I have heard for a very long time – the more so considering it faces some pretty severe competition in the catalogues. Those who do not know these extraordinarily original masterpieces are strongly advised to acquire this disc. There is none better'.
Fanfare Magazine proclaimed, 'Based on the present disc and on the towering performance of the First Sonata on his debut CD, I am prepared to state that Cousin is among the most distinguished Rachmaninoff pianists of our generation.'
Martin is also a member of the Aquinas Piano Trio and chamber music has taken him to places such as Prague, Tokyo, Indonesia, Thailand, Zimbabwe and Barbados.
Martin's hands were featured on the big screen in the Oscar-winning film "Shine", for the scenes involving Rachmaninov's 3rd Concerto.
Martin's teaching experience spans over 20 years and covers areas as diverse as masterclasses in Thailand, Indonesia and Norway, piano teaching and chamber music coaching for the RCMJD and piano teaching posts at the London Oratory School, Cardinal Vaughan Memorial School and Trinity School.
He is also in demand as an adjudicator and recent engagements have included the Royal Over-Seas League Music Competition and the Chappell Piano Prize at the RCM.
http://www.martincousin.com
Considéré comme un des pianistes les plus remarquables de sa génération, Martin Cousin a gagné le premier prix au Concours International Ettore Pozzoli (Seregno, Italie, 2005) et la Médaille d'Or au Concours de Musique de la Royal Over-Seas League à Londres en 2003.
Depuis ses études au Royal College of Music à Londres et son début en solo à la Purcell Room en 1998, Martin Cousin joue régulièrement aux principales salles de concert de la Grande-Bretagne. Il a donné des récitals en solo à la Wigmore Hall en 2001, 2005 et 2011 et il a joué comme soliste avec les orchestres London Philharmonic, Halle, Royal Philharmonic, Philharmonia et BBC Concert Orchestra.
A l'étranger il a fait des tournées en Nouvelle-Zélande, en Italie et aux Etats-Unis et il a donné des concerts à Stockholm, à Bruxelles, à Toronto, à Bern et à La Haye.
En 2006 a paru chez SOMM son premier CD, la sonate no. 1 et Morceaux de Salon de Rachmaninoff, choisi comme CD classique de la semaine par le Daily Telegraph. Selon le critique du journal américain Fanfare, 'C'est l'interprétation de la première sonate que j'ai toujours entendue dans ma tête mais n'ai jamais espéré entendre par mes oreilles.' Son deuxième CD chez SOMM, des sonates pour piano de Glazunov, paru en 2010, a reçu également des applaudissements, et son CD le plus récent, des Etudes-Tableaux de Rachmaninoff, paru en 2014, a été décrit par le journal The Observer comme un enregistrement exceptionnel et accordé cinq étoiles. Selon la revue Classical Source, c'est 'un des meilleurs disques de piano solo depuis très longtemps' et selon Fanfare Magazine 'Cousin prend sa place parmi les interprètes de Rachmaninoff les plus distingués de notre époque.'
Martin Cousin est aussi membre de l'Aquinas Piano Trio, et en jouant de la musique de chambre il a voyagé à des destinations diverses comme Prague, Tokyo, Indonésie, Thaïlande, Zimbabwe et Barbados.
Dans le film 'Shine', primé d'oscar, ce sont ses mains qui ont joué le troisième concerto pour piano de Rachmaninoff.
Depuis plus de vingt ans Martin Cousin enseigne le piano au London Oratory School, Cardinal Vaughan Memorial School et Trinity School et il donne des leçons de musique de chambre au Royal College of Music. Il a donné des cours de maître en Thaïlande, Indonésie et en Norvège. Recherché comme juge, il a été membre du jury pour le Concours de Musique de la Royal Over-Seas League et pour le Prix Chappell au Royal College of Music.
French translations by Elizabeth Wardle Grist

'an exemplary piano soloist with commanding technical authority and a shining, enriched tone'. Guardian
Leon McCawley,
one of Britain's foremost pianists, has forged a highly successful career since winning 1st Prize in the 1993 International Beethoven Piano Competition in Vienna and 2nd Prize at the Leeds International Piano Competition, building on his earlier success as Winner of the Piano Section of BBC Young Musician of the Year in 1990. Since then, McCawley's impressive discography has established him as a pianist of great integrity and variety, bringing freshness and vitality to classical, romantic and 20th century repertoire. His recent CD of Haydn's Sonatas and Variations for SOMM Recordings is no exception, and was awarded a Diapason d'Or in July 2017: 'What a range in his interpretation and how many layers of gradation! McCawley ties these together in a special quality of inflexions which make their point with great intelligibility and sensitivity'. (Diapason, July 2017)
McCawley has been praised for the purity of his lyrical and heartfelt playing. An acclaimed exponent of Mozart, he has performed and recorded (Avie Records) the complete cycle of Mozart Piano Sonatas in winning interpretations: 'There's absolutely no vanity in his playing, which is bright, clean and unfailingly communicative. In his hands the Mozartian oeuvre emerged with striking vividness' (International Piano). Notable recitals in past seasons include: London Piano Series at Wigmore Hall (where he will return in 2018 and 2019), International Piano Series at London's Southbank Centre, Philharmonie and Konzerthaus in Berlin, Frick Collection and Lincoln Center New York, Hong Kong Arts Festival, Prague Rudolfinum and the Phillips Collection Washington DC. He can be frequently heard on BBC Radio 3 both in performance and interview with most recent broadcasts including In Tune, Wigmore Hall Lunchtime Series and Performance on 3.
As a concerto soloist, McCawley performs with many of the leading British orchestras including the Academy of St Martin-in-the-Fields, London Philharmonic, Royal Philharmonic, Philharmonia, BBC Philharmonic, Bournemouth Symphony, City of Birmingham Symphony and Royal Northern Sinfonia. He has performed several times at BBC Proms. Further afield, McCawley has made concerto appearances with, amongst others, Adelaide Symphony, Cincinnati Symphony, Dallas Symphony, Malaysian Philharmonic, Minnesota Orchestra, Netherlands Philharmonic, Philadelphia Orchestra (where he was praised as 'a master of tone and articulation' by the Philadelphia Inquirer), RTÉ National Symphony Orchestra, St. Petersburg Symphony and Vienna Symphony and worked with conductors such as Mark Elder, Daniele Gatti, Paavo Järvi, Andrew Litton, Kurt Masur, Gianandrea Noseda, Sakari Oramo, Simon Rattle and John Wilson.
McCawley studied at Chetham's School of Music, Manchester with Heather Slade-Lipkin before continuing his studies at the Curtis Institute of Music, Philadelphia with Eleanor Sokoloff. He also received invaluable guidance from Nina Milkina in London.
A keen chamber musician, he has enjoyed fruitful collaborations with a range of ensembles and musicians at many prestigious concert venues including BBC Proms Chamber Series, BBC Radio 3 Lunchtime Series at Wigmore Hall and Aldeburgh, Brighton, Cheltenham and Edinburgh festivals.
McCawley's discography includes: Schumann Piano Music (Avie Records) selected as Editor's Choice in Gramophone; The Complete Piano Works of Hans Gál (Avie), also a Gramophone Editor's Choice; The Complete Mozart Piano Sonatas (Avie) awarded a Diapason d'Or ; Chopin Piano Music (SOMM Recordings) ; Barber Piano Music (SOMM), awarded Critic's Choice in Gramophone in November 2011; Beethoven's Choral Fantasy with Royal Philharmonic and City of London Choir/Hilary Davan Wetton (Naxos); Brahms Piano Music (SOMM), selected as Classic FM CD of the Week in July 2012; Schumann Piano Music (SOMM); Rachmaninov Complete Preludes (SOMM); Vaughan Williams Double Piano Concerto with John Lenehan and Royal Scottish National Orchestra/Martin Yates (Dutton Epoch) , described as 'not been better served on record before' and awarded 5 stars by BBC Music Magazine; and Haydn Sonatas and Variations (SOMM).
Leon McCawley is currently professor of piano at London's Royal College of Music. He is married to the painter Anna Hyunsook Paik.
Leon McCawley
En 1993 le pianiste anglais Leon McCawley a gagné le premier prix au concours international de piano á Vienne et il a gagné aussi le deuxième prix au concours international de piano à Leeds.
Il a fait ses études à Chetham's School of Music, Manchester, avec Heather Slade-Lipkin et au Curtis Institute, Philadelphia, avec Eleanor Sokoloff; il a travaillé aussi avec Nina Milkina à Londres.
Les récitals de Leon McCawley ont reçu beaucoup d'acclamations: à la Wigmore Hall et à la Queen Elizabeth Hall, Londres, Berlin Konzerthaus, Lincoln Center New York, Prague Rudolfinum et Vienne Musikverein. Il joue souvent avec les premiers orchestres britanniques et il a joué plusieurs fois aux BBC Proms dans la Royal Albert Hall. Il fait régulièrement des emissions chez BBC Radio, en récital et avec les orchestres de la BBC. A l'étranger il a joué avec les orchestres Cincinnati Symphony, Dallas Symphony, Minnesota Orchestra, Netherlands Philharmonic, Philadelphia Orchestra et Vienna Symphony, entre autres. Parmi d'autres chefs d'orchestre il a travaillé sous le baton de Kurt Masur et de Simon Rattle.
Sa discographie très variée a reçu beaucoup de prix, y compris deux 'Choix de l'Editeur' dans Gramophone Magazine et deux 'Diapasons d'Or' chez Diapason.
Leon McCawley est professeur de piano au Royal College of Music à Londres, et son épouse Anna Hyunsook Paik est peintre.