Now in its 21st year Lot Music is a piano summer school with an international following for adult amateur pianists. It is situated in the Lot Valley, a beautiful corner of South West France. The ethos is to create a relaxed ambiance giving pianists a chance to join a like minded group, to be taught by exceptional high profile teachers and to gain confidence in performing. The course is complimented by the wonderful setting in which to relax.

Overview cont.

In 2014 we moved to a stunning new venue Hostellerie Le Vert a family run 7 bedroom hotel . From this season it has become a luxury gite complex which we have for our exclusive use. The course includes full board with superb food from Eva and Bernard's kitchen made with fresh seasonal produce which is mostly locally sourced and organic. One's own transport/carhire is strongly recommended as it is a rural location and some accommodation necessarily is off site. The Lot Valley is a lovely area to explore with walks and cycle routes from the door step or simply relax by the beautiful swimming pool.

The tutors offer inspiration & confidence to those less familiar with playing to others, as well as responding to the needs of the advanced players. Very advanced players can be offered a platform to give one of the evening recitals. The course is for a maximum of nine pianists in order to give each person individual attention. It best suits pianists at a level equivalent to ABRSM grade V111 or higher. It is aimed at adult pianists and would suit piano teachers, amateurs, or anyone with a passion for playing the piano. The choice of repertoire is free. In the teaching room there are two pianos allowing for concerto or two piano works.

The course runs for one week with tuition in masterclasses. A private lesson with the tutor is also available. The course welcomes the pianists' partners.

Daily Programme - Morning

Continental breakfast followed by morning masterclass (Yamaha C5 grand piano). Each participant can expect two hours of playing to the class (divided into three sessions) during the week. Non-playing partners have use of the pool and opportunities for exploring the region, etc. Alfreso lunch: prepared in house.

Daily Programme - Afternoon

Free for practice (use of four pianos and a clavinova) allowing up to two hours practice time per person per day. Other activities include swimming, walking, exploring the area, canoeing, wine tasting, or just soaking up the atmosphere.

Course Programme - evenings

On two evenings the tutor gives a recital to us and an invited audience followed by dinner at Canel or a local restaurant. For the remaining evenings there are early evening recital/s given by advanced participants followed by aperitifs and dinner taken at Le Vert. There is a participants' concert on the last evening.

The cuisine is regional French and South West France is especially famous for fois gras, confit of duck, pork, truffles, walnuts and, of course, Cahors wines. From Bernard's highly acclaimed kitchen there will be wonderful menus made with seasonal local produce and an exciting variation throughout the week. Vegetarians are also catered for.

Course ends: After breakfast on last day.

Course fees include full board, all restaurants, wine with dinner, masterclass tuition and concerts. TRAVEL IS NOT INCLUDED.

Transport to restaurants depends on the goodwill of participants with cars to give others lifts, or taxis can be arranged at a supplement.

Famille Philippe

We are exceptionally lucky and a big thank you to Eva and Bernard Philippe and family for agreeing to host Lot Music at their lovely home.

Bernard is a great chef and their restaurant has earned many accolades. Although the restaurant is now closed Lot Music continues to benefit from Bernard's amazing talent creating wonderful dishes for us to savour. Please see the venues page for further information and a link to their website. It is situated in a lovely part of the Lot Valley in a beautiful setting close to Puy L'Eveque, Tournan D'Agenais and Prayssac. There are seven en suite bedrooms available for single occupancy. The large salon will become our recital and teaching room. Meals will be taken on the terrace weather permitting. There is a swimming pool, a lovely large terrace and plenty of garden to relax in.

Le Canel

Additional accommodation is at Le Canel (four ensuite rooms available for single occupancy) where there is also a large elegant sitting room. Breakfast will be provided.

One practice piano will be situated here and a clavinova. (La Tour and L'Ecurie) and more information can be found on the venues page.
Tutors
Our high profile tutors are renowned worldwide as teachers and adjudicators, and perform regularly on the international stage as both soloists and chamber musicians.
Find out more about the tutors

»
Venue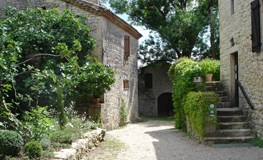 Lot Music takes place at Le Vert which, from this season, has become a luxury gite complex.(see further detail under venues) Additional accommodation is at Le Canel.
Click here for further infomation

»
Contact
The course is run by Anne Brain and co-director Howard Southern. Please contact Anne or Howard for any further information about the course.
Contact details

»